HONOLULU, HI (July 8, 2020) – Hunt Military Communities (Hunt) celebrated the completion of a new, 40 home redevelopment of the Nani Ulupa'u neighborhood on Marine Corps Base Hawaii today. Hunt broke ground on the redevelopment project at Ohana Military Communities in June of 2019. The redevelopment features a hillside, terraced site converting a neighborhood that previously had four and six-plex apartment-style homes into 40 single-family homes on an 8.5-acre site. The hillside location allows for an unencumbered view of North Beach, and access to the Pacific Ocean located less than 1,000 feet from the neighborhood. The homes were designed with consideration of the view planes, including large master bedrooms and 2nd-floor lanais oriented towards the ocean. The single-family floor plans allow for spacious 2000+ square foot, 4-bedroom homes with large, fenced backyards.
"Today marked another major milestone in our public-private partnership with the United States Department of the Navy to provide high-quality homes for Hawaii-based Marines," said Brent Arakaki, Director of Development for Hunt. "We are proud to provide our deserving service members with high quality housing in beautiful, welcoming communities to raise their families in."
The Nani Ulupa'u project was scheduled to complete within 14-months from the start of construction and was successfully completed six weeks ahead of schedule. The homes feature numerous amenities including garages fitted with electric vehicle charger plugs, energy efficient air conditioning systems, increased insulation in the walls and conditioned attic spaces to guard against the corrosive environment, Energy Star appliances, and 100% LED lighting throughout the community. Due to the difficult site conditions, larger home sizes, single-family construction, and added amenities, these homes will represent the most elaborate development the Ohana Military Communities team has undertaken so far, out of the 3,300 homes constructed for the project under the Public Partner Venture (PPV) collaboration. The Field Grade Officer housing waitlist ranks as one of the most prolonged wait periods, up to 2-years, due to the shortage of inventory versus demand. The additional housing will help alleviate the shortage and balance the Marine Corps Base Hawaii housing portfolio.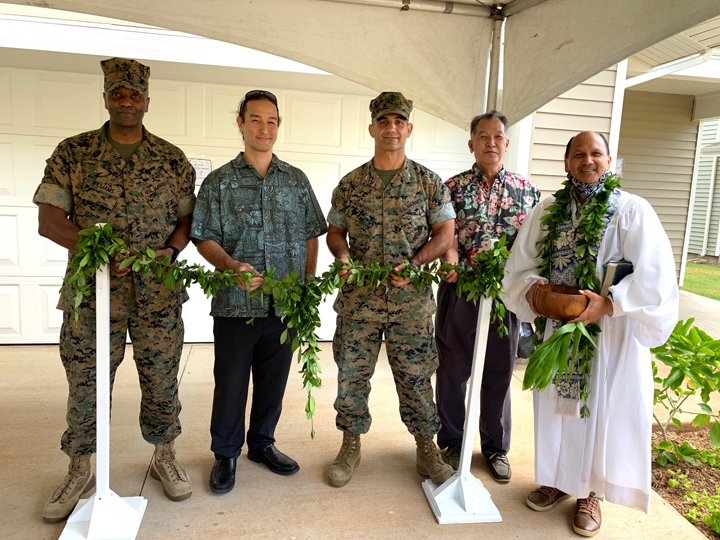 PICTURED (from left to right): Marine Corps Base Sergeant Major Lester L. Williams, Hunt Director of Development, Brent Arakaki, Marine Corps Base Commander, Colonel Speros C. Koumparakis, Irwin Tamura, Hunt Project Manager, and Kahu Kordell Kekoa.
In Hawaii, every significant project completion involves a traditional Hawaiian blessing ceremony. Performed by a Hawaiian Kahu (literally translated to "keeper" or "honored servant"), the purpose of Hawaiian blessing ceremonies is to invite goodness, aloha, happiness, harmony, health, peace, protection and abundance into a space. Today, Marine Corps Base Commander, Colonel Speros C. Koumparakis, Base Sergeant Major Lester L. Williams and those involved with the project, including Hunt Community Managers, Development and Operations employees, and Hunt community residents gathered around Kahu Cordell to participate in the blessing of the community and to acknowledge the history of the 'aina (land).
"We are very much looking forward to welcoming our Ohana to Nani Ulupa'u and we hope our residents love our homes as much as we do," said Ashley Box, Community Manager for Ohana Military Communities.
ABOUT HUNT MILITARY COMMUNITIES:
Hunt Military Communities (HMC), the largest military housing owner, offers unsurpassed quality and service to more than 165,000 residents in approximately 52,000 homes on Navy, Air Force, Marine Corps, and Army installations across the USA. We do this through our core values: safety, kindness, efficiency, enthusiasm and selflessness and our 5-Star Service commitment. With a 50-year legacy and a partnership with the Department of Defense, HMC strives to ensure the integrity of our military communities and the families who live there. Ohana Military Communities is a division of Hunt Military Communities, specifically serving Hawaii.
ABOUT HUNT COMPANIES:
Hunt Companies, based in El Paso, Texas, is a diversified, family-owned holding company that invests in operating businesses, real estate assets and infrastructure assets. Since its founding in 1947, Hunt's size and scope have grown substantially while gaining considerable expertise across multiple real asset sectors. Hunt's reputation is built on integrity and performance. Hunt is committed to a culture of transparency for employees, clients, investors, and the communities it serves. Hunt and its affiliates employ more than 3,000 people across the United States and Europe. Learn more at www.huntcompanies.com.